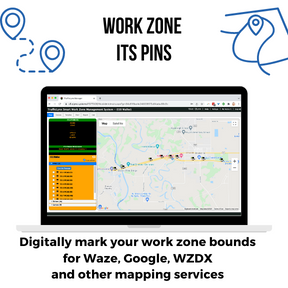 Make your work zone safer by putting it on the map! 
Mark your work zone for recognition by Waze, Google, and Connected Vehicles.
Everyone knows the dangers of traffic accidents in an active work zone. Advanced warning of the approaching work zone is one way to make it safer.  Work Zone ITS Pins are connected devices that let you map your work zone, so it can be seen by navigational apps, connected vehicles and more.
Once in place, the ITS Pins continually update the location of your work zone bounds.  These real-time, verified locations can be picked up by technology such as Google, Waze, and WZDX*.  This allows your site to be recognized by automated vehicles, driving apps, traffic control centers, DOTs, and more.  
JUST DROP A PIN, FOR A SAFER WORKSITE
Everyone wants to keep their site safer for both workers and drivers.  Now, increasing awareness of your work zone is so easy.  QLynx ITS Pins are designed for easy plug-and-play installation: Just drop them in place, and turn them on.  They allow easy placement on work zone barrels, poles, and more.
We've also got you covered where maintenance is concerned.  Other products may require constant recharging, or be easily broken and lost.  QLynx Work Zone ITS Pins are designed for long battery life (up to 30 days on a single charge), and field-tested for durability and long use.
*WZDX stands for the FHWA Work Zone Data Exchange, the new standard for sharing work zone information.