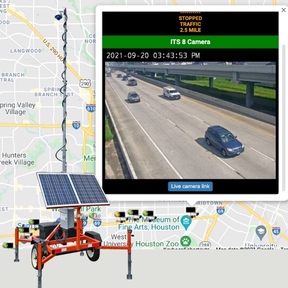 Portable Camera Systems feature a pan-tilt-zoom camera for displaying real-time video and still images on the internet. These systems can be used to check real-time traffic conditions, monitor construction, verify incidents, or for enforcement officials for security purposes.
A variety of different camera systems are available to meet different specifications and price points. Feel free to contact us for more details.
Portable cameras are easy to access on the TrafficLynx website, which allows easy streaming and control of all your system cameras.  The system also includes a fully-featured camera to allow monitoring of all your camera streams at one time.
Camera Systems
Use portable trailers to enable maximum portability and mobility
Integrates camera and state-of-the-art wireless communications technologies and displays real-time video or still images through the internet (password protected, if necessary)
Additionally, Camera Systems
Allow remote pan-tilt-zoom control of the camera through web pages.
Seamless integration with other systems such as smart work zone systems.
Can be set up quickly at the site by one person.